Pregnancy & Baby Care
Care from the start of life!
At D&H Drugstore, we understand that women who are pregnant or have just given birth need a whole range of products and supplies to make life easier for themselves and their babies. As part of the Columbia community for generations, D&H Drugstore has always been a convenient stop for moms-to-be and new moms for pregnancy care, breastfeeding supplies, and cloth diapers. We're here to make one of the most special times of your life a little less stressful!
Maternity Support
Support Hosiery
Mother and Baby Supplies and Skincare
Supplements
Breast Pumps & Accessories
Nursing Pillows and Stools
Pacifiers
Baby Utensils, Cups, and Plates
Teething
Bibs and Burp Cloths
Socks & Leg Warmers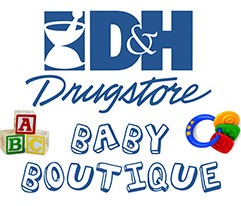 Download our Baby Boutique Brochure
Pregnant or post delivery? We have the supplies you'll need at different stages!