Medical Alert Devices

Living independently is the desire of most individuals. There are times, however, when living alone can mean that there's no one around to assist you during an emergency.
FreedomAlert offers the ability to summon assistance at any time with the simple push of a button. No strangers, no medical personnel; just family, friends and neighbors — those who care most about you.
Personal security has never been so small or so affordable. FreedomAlert is the first product ever to allow you instant 2-way speaker phone communication through your mini wearable pendant to family, friends or neighbors, at any time from anywhere in or around your home.
If your programmed contacts are unreachable, the system can default to contact a 911 emergency operator. Never be out of range of assistance again!


Countless preventable accidents and deaths occur each year that could be prevented by quick access to emergency services. The LogicMark Guardian Alert 911 is an emergency notification system for loved ones and disabled persons, providing instant connection to a 911 operator in the event of an emergency. It contributes to peace of mind for those wanting to lead safer and more independent lives.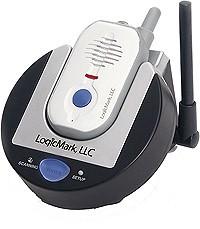 How does Guardian Alert 911 work?
It's surprisingly simple — simply push the blue button on the wearable pendant and you can speak directly to a 911 operator from anywhere in or around the home. You do not need to use your regular telephone.