RX Refills
D&H Drugstore utilizes the secure Central Refill service to ensure accurate online prescription refills, with options for in-store pickup, delivery or USPS mail.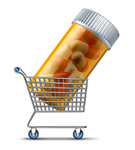 For Prescription Transfer:
If you are not currently a D&H Drugstore customer and want to take advantage of our prescription transfer services, please contact us directly at 573-777-7373 (Paris Road) or 573-777-7333 (Broadway) with the following information.
Name of your current pharmacy
Pharmacy phone number
Prescription number
Name of medication(s)
For Users with an online account:
It is possible to connect your online account with the prescription information of others in your family or household. For other adults to be connected to your account, we need to have them fill out the following Health Information Sharing Authorization form saying it is okay to connect their information to your account. The form is in PDF format and once downloaded to your computer by clicking the blue button below, can be opened and printed with the free Adobe Reader program. Completed forms may be brought to the D&H location of your choosing to finalize the account connection process.
This form can also be used to request printouts
of an adult family member's prescription history.